Roof Pitch Calculation Tool
STEPS
Measure the length of a spirit level – X in the below diagram.
Place one end of the spirit level on the roof surface and level the spirit level.
Measure the vertical distance from the underside of the level to the roof – Y in the below diagram.
Put the X and Y dimensions in the below calculator and the pitch will be displayed rounded to the nearest whole degree.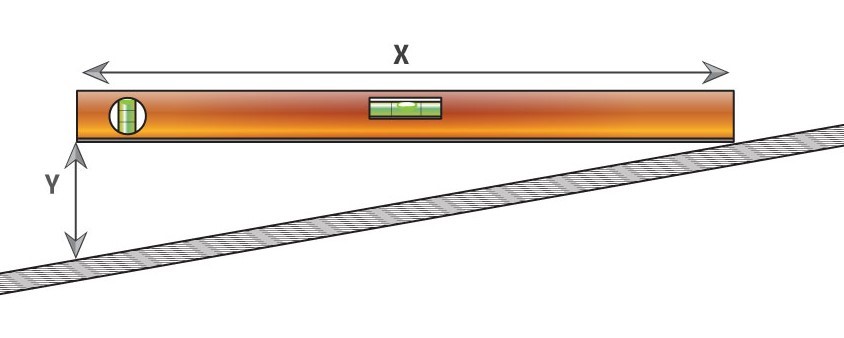 The roof pitch will be one of the parameters that is required when configuring Series 1 or Series 3 platforms
See links to our other calculators:
degree Y = 17mm
degree Y = 35mm
degree Y = 52mm
degree Y = 70mm
degree Y = 87mm
degree Y = 105mm
degree Y = 123mm
degree Y = 141mm
degree Y = 158mm
degree Y = 173mm
degree Y = 194mm
degree Y = 213mm
degree Y = 231mm
degree Y = 249mm
degree Y = 268mm
degree Y = 287mm
degree Y = 306mm
degree Y = 325mm
degree Y = 344mm
degree Y = 364mm
degree Y = 384mm
degree Y = 404mm
degree Y = 424mm
degree Y = 445mm
degree Y = 466mm
degree Y = 488mm
degree Y = 510mm
degree Y = 532mm
degree Y = 554mm
degree Y = 577mm